Engineering Innovation: The Legacy of Ashley Carr
When words fail, it's the music that speaks. It's the experimental sounds, the unique instruments, the classic duets, and the remarkable voices that take you on a journey. And that's why everyone out there has a style of music they think is perfect.
Conservative, easy-going and' chilled back', you could've argued Ashley Carr's undeniable talent and credentials were indeed perfect. And that's precisely how Helen, his mother, felt about his music. And she wasn't the only one.
It's how she and many of his fans across the globe felt, even after his sudden passing in 2016.
At just age 30, Ashley forged an incredible legacy some might take decades longer to achieve. And he did it in style. "I always hated the idea of composing in one style or genre, and so my music has always been an eclectic mish-mash of different ideas as they fly around in my head," Ashley wrote on his website some years ago. "Music has always been fun for me, and I try not to take anything too seriously, you can usually catch me jamming in front of something, laughing my ass off with a big grin on my face. That's when I'm the most productive." He was an enthusiastic writer, an energetic producer, and a dynamic DJ. To many, Ashley was a son, a friend, an innovator, an experimenter; a real talent.
Sometimes, inspiration can come from the most unexpected of places. But what's surprising for some, mightn't be for others. Ashley's fondness for games, bands, movies and television shows (Film LeFemme Nikita and band The Crystal Method, for example) tiptoed into the vast musical catalogue he created – and it wasn't a catalogue that was created overnight. The windows would rattle and shake from the sounds coming from Ashley's music studio, where you'd often find him creating new sounds. Experimenting with different sounds from myriad movies and bands, he'd innovate for hours, days, and weeks until he finally got 'it' right. 'Mum, come here and listen to this,' he'd say to Helen.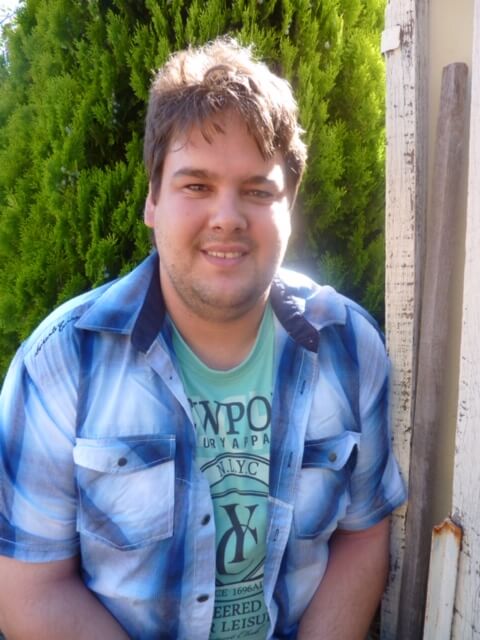 Born in 1986, his love for all things computers and gaming was never a secret, Helen says. Computers and the internet weren't exactly part of someone's regular vocabulary throughout the 1990's – but, almost ahead of his time, Ashley always wanted a piece of the action. "In those days, it [the internet] was for school, just like an encyclopaedia, we thought," Helen says. "He taught himself programming with dos and also to type correctly. "He had come across a programme called ModPlug Tracker and, from there he was into a free download sample of Fruity Loops etc. Towards the end of year seven he had written his album of music, eventually handing out burned CD's in year 8." By 15 he was remixing the soundtrack to the 1993 video game 'Doom 1'. 'Doom 2' followed the year after, and so did more remixing and innovating.
A trip to Kosmic Sound in Osborne Park would then change everything. Purchasing a midi keyboard, it spurred an ongoing love for experimentation with 'Propellerhead Reason,' a music production software. His friends would later give him the name 'Dj Redlight.' And it was a name that stuck. Ashley posted remixes on gaming remix website 'Overclocked Remix'. Many original videos and songs he created are now on YouTube, found here. "I love Ashley's music, I was in the room many times while he was producing and it was always happy times," Helen says.
"I loved his space and his sense of melody and how he would take you on a journey with his synth work. "Breaking it down so you could hear all the layers of sound he had just created, and then returning you back and taking you on the epic finale." A passion for production eventually landed him a job at Kosmic Sound, where he worked for nine years in their High Tech department, selling and setting up music studios all over Perth. For three years, Ashley additionally worked at Joondalup TAFE, lecturing others on how to put sound and music to the students' course work, movies and games, using a Protools studio he had set up. Notably, Ashley also had a Diploma of Music Industry Technical Production 2009.
The wheels were turning. Once inspired by pop culture around him, Ashley was now inspiring others. He'd even begun writing an album. Though untitled, it lives in Helen's phone as 'Coming Soon.' Ashley's journey saw one of his remixes published in 2012, found here. It, unsurprisingly, performed well in the Beatport chill charts. He loved everything about writing and producing music, and enjoyed creating sounds from scratch. "He was brilliant with melodies, but it's the synths that take you on a journey," Helen says. Prospects remained high, with Ashley spending two-and-a-half years at UWA crafting a new career in software engineering and computer science. Study and work meant 'Coming Soon' remained unfinished, with Ashley passing away at age 30.
Helen approached the crew at Caffeinate Digital to restore Ashley's website in its original form. Caffeinate additionally uploaded 'Coming Soon' to SoundCloud and YouTube. Helen says it was important for people to freely come back and listen to or download Ashley's music. "Everyone that knew him, knew him to be extremely funny and had a gift for mimicking accents, he also had a gift for remembering dialogue too, so he was always up for a laugh," Helen says. "He was born with a great sense of melody. I've had his music playing on my iPod for many years… Incredible, I think."
Check out Ashley's website, restored and live in its original form, here: https://djredlight.com/
YouTube: https://www.youtube.com/user/ashleycarr86/videos
You can also visit Ashley's SoundCloud here: https://soundcloud.com/djredlight
Get the latest and greatest.
Direct to your inbox.
No spam. Only the good stuff.