Google Page Experience Update Set to Launch
As many of you may or may not be aware…

Google has scheduled an algorithm update for May this year (yes, another one), focused on improving a user's experience on a website.
So what is page experience?
Google's update focuses on three essential features that impact the user experience.
Slow page speeds
Bad structure & design
Lack of engagement
It also includes metrics in Google's Web Vitals to do with a site's loading speed, interactivity, and visual stability.
What does this mean? Well, in order to rank a website, Google will look at how quickly its pages load and how mobile-friendly it is.
Have a slow website that's overloaded with large images and too much content? This won't sit well with Google.
(READ: Read This Before Building Your Website)
This includes updates to Google's existing Signals from Core Web Vitals such as mobile-friendliness, safe-browsing, HTTPS-security and intrusive interstitial guidelines.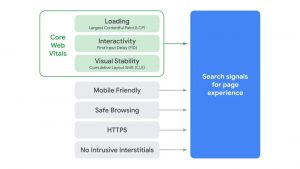 (READ: What is a Lead in Digital Marketing)
So you might be wondering, why should you pay attention to this update?
It seems evident that pages that fall below the new benchmarks will be left behind in the rankings. This can mean a significant drop in traffic to your website.
Optimising for mobile search is also non-negotiable at this stage of the game. You have a couple of months left to make sure you're well-positioned to avoid being negatively affected by the updates.
Caffeinate Tip: Use our FREE INSTANT WEBSITE AUDIT to put your website to the test and see if it's up to scratch.
(READ: The Customer Value Journey: How to Create a Digital Marketing Strategy)
SOURCE:
https://developers.google.com/search/blog/2020/05/evaluating-page-experience
We want to hear from you! Follow us on LinkedIn, Facebook and Instagram to keep up with us, get our notifications and start a conversation!
Get the latest and greatest.
Direct to your inbox.
No spam. Only the good stuff.