STRATEGY PRODUCTIVITY
How to Improve Productivity at Work with Spotify Playlists
Music is a great tool to improve productivity at work. But sometimes, it can be a struggle to find the perfect Spotify playlists to get your day started. This is why the Caffeinate Digital office have listed the best Spotify playlists to improve productivity at work. 
Sometimes when you get into the office, it can be a struggle to feel motivated. You may be a person who becomes easily distracted or maybe you're just struggling to get going. But we all know that from time-to-time, we all manage to get distracted by the background sounds of the modern-day office. Let alone, the onslaught of people entering and leaving the room, that weird cable in front of you that you need to touch, or simply your weekend antics.
Still, you need to get stuck into your work. Whatever it is you do.
Whether you're designing a new landing page, scheduling social posts, replying to emails, answering phones, or writing a blog that'll capture the hearts and minds of your audience. Your employment status relies on whether or not you can kick yourself into gear and get working.
It seems that everyone has their own remedies for their lull in efficiency. I've worked with people who believe in the power of fresh air and sunlight, a quick spot of office yoga, or the process of elimination (tackling either the easiest or the hardest thing of the day).
And sure, each solution has its place. I may even be an ambassador for them on occasion. Yet for me, music is a great source of inspiration. For no more of a reason than it allows you to get lost in the music, often finding yourself 2 hours later, with a chunk of work finished.
Enter your email to subscribe
What research has to say about music and productivity
There is only so far you can go with anecdotal evidence because at some point, you need research to back you up.
In a study called The Effect of Music Listening on Work Performance, by Teresa Lesiuk from the University of Miami, had some key insights into this. Essentially, her study measured the effect of music listening on work quality and time-on-task. Lesiuk saw that.
However, there are some other studies which have differing results. Even to go as far to say that music worsens productivity. Yet, these results fluctuated between certain genres and types of jobs. For example, music featuring lyrics is typically worse for jobs with heavy writing. Whereas for more visual roles, lyrics didn't matter as much.
Based on the bulk of the studies, we believe music does improve productivity at work.
The best Spotify playlists to Improve productivity at work
Alas, as curated by the Caffeinate Digital team, here it is. The greatest, funkiest, work-inspiring, grooviest, head-bopping, inspiring and best Spotify playlists to improve productivity at work. So good that it will send it through the roof. Before we start, you should know that we've listed the name of the playlist, along with who's recommended it and a general look into the playlists genre. Here are our top picks.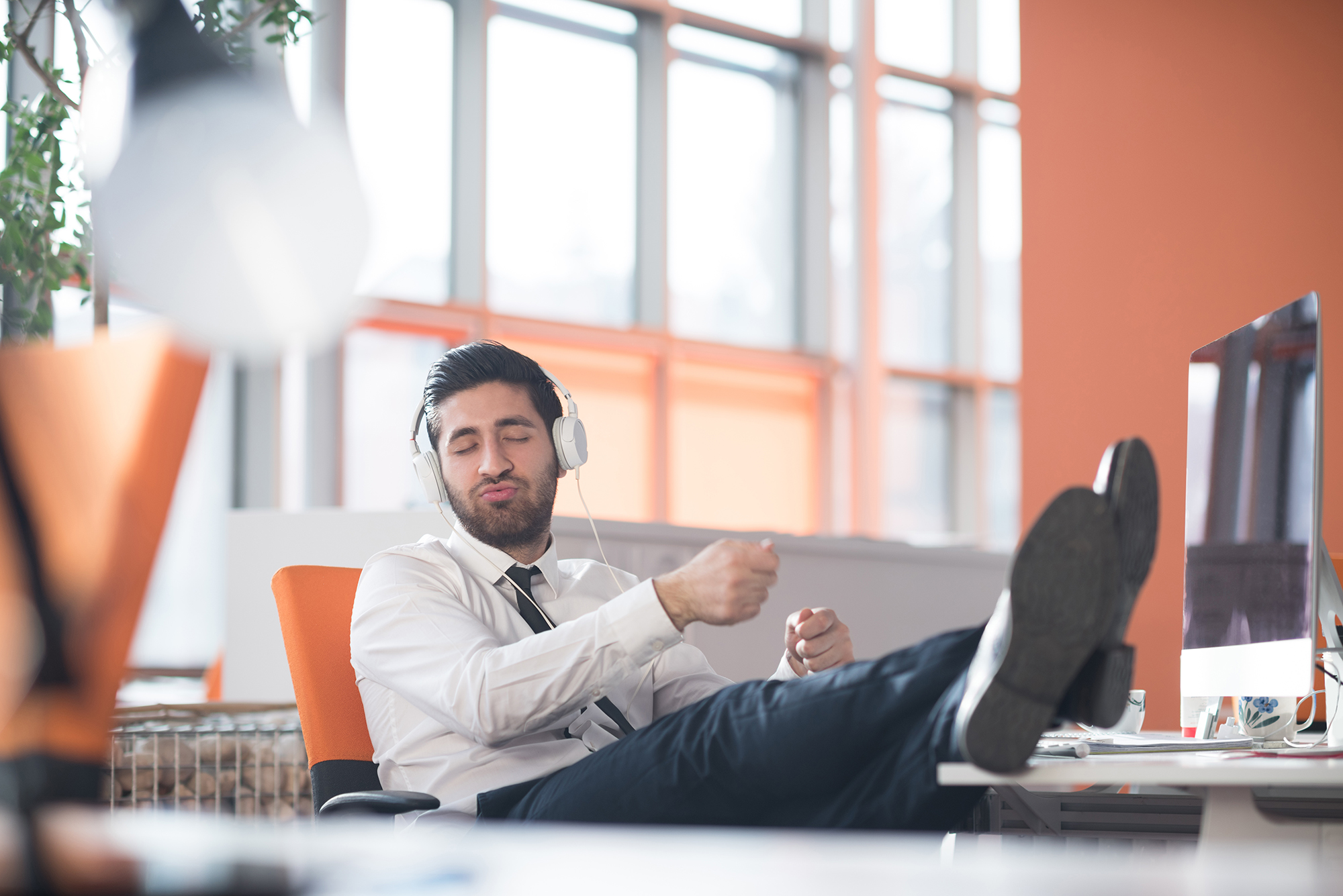 Sexy R&B
Chose by: Alice
Genre: R&B, rap, dancehall, electronic, hip hop
With a consistent tempo, this playlist is excellent for someone who needs to focus and not hear anything that's going on around them. Submerse yourself into the music, forget whatever lyrics they're banging on about and get your work done with some Sexy R&B in your ears.
This is a playlist highly rated by Alice, who manages to pump out her front-end dev work quickly and to a high quality when this is in her ears.
Slick Rick
Chosen by: Glenn
Genre: Electronica, smooth electronica, acid house, lo-fi, jam, nu-jazz, trip-hop
A six-hour mix of acid house, lo-fi, jazz and trip-hop could be exactly what you need to power through a mountain of work. With minimal vocals and maximum groove, this playlist picks up in pace to ensure you're always getting something done.
This playlist is great for a writer or someone consuming endless data and analytics. Meanwhile, just as fruitful if you're churning out a graphic or designs thanks to it's relaxed and repetitive  hip-hop and coffeehouse beats.
(READ: A Note from Caffeinate's Lead Designer: Consistent Design Always Wins)
CGB's List
Chosen by: Connor
Genre: A mixture
When you're not too sure of what to listen to, listen to Connor's master list. A great option for the person who needs some inspo, but doesn't know where to start.
Featuring a mixture of genres, styles and tempos, shuffle this and you'll find that it's is a great way to jump into your workload.
Paul Desmond
Chosen by: Public playlist
Genre: Cool jazz, smooth jazz, West Coast Jazz
The first artist page to come into our list, if you're looking for background music, this is perfect. Paul Desmond was an American jazz alto saxophonist and composer, popular in the cool jazz scene.
This will not speed up your workflow, but will ensure that you're on task for however long you're listening. It's smooth, easy listening and ready for you to focus on what's in front of you.
Dancehall
Chosen by: Alice
Genre: Reggae, dancehall, R&B, reggae fusion, hip hop
Known in the Caffeinate office as Dancehall mornings, Alice recommends her dancehall mix. For those who get in early enough, you can hear a loud blaring of the reggae-infused R&B dancehall, pierce the air.
Alice likes to get in early and produce her work. So take it from her, you can get a lot done when listening to dancehall.
Lush Lofi
Chosen by: Public Playlist
Genre: Hip hop, lo-fi, smooth electronica, jam
Combining chill instrumental beats and understated synth, this playlist holds its own.
Great for a writer or someone who needs to focus without the distraction of lyrics or storyline. This playlist will keep you in the zone and relaxed through repetitive,  yet continually adapting,  hip-hop beats. It's an excellent option for some killer background music that infuses electronic music with the lo-fi aesthetic.
Chilled Drum and Bass by Aardonyx
Chosen by: Alex
Genre: Drum and bass, electronic, trap, jungle, liquid funk
For whatever reason, drum and bass is a genre strongly associated with design. Even the guys in Silicon Valley are heard frequently listening to it. So maybe it is no surprise that our head of design vouches for it.
Listen to this when you're looking to focus on what's in front of you and nothing else. This is perfect for churning out work quickly and properly, as the pace imposes a sense or urgency in the listener.
Hillbilly Rocknroll
Chosen by: Glenn
Genre: Roots rock, swamp rock, southern-fried rock 'n' roll, blues-rock, pop-rock
A bit of rock never hurt anyone. And frankly, it can be a pleasant change from a less rocky playlist… which usually infects the office and earphone alike.
If you're looking for a bit of that southern-fried rock 'n' roll, then this playlist is perfect for you. A mixture of blues influences, stories of the south and a seemingly whiskey-sore voice, this playlist is a great remedy for the 'normal'. Guaranteed to push you through the workday… even just for an hour or so.
Bass Arcade
Chosen by: Alex
Genre: Electronica, future bass, trap, house, electro house
Another bass-heavy mix, made to see you motor through work. Turn this on if you're wanting to block out all distractions around you. Because with this mix, you'll only be able to focus on what's immediately in front of you.
Not so great for writers and those analysing data, but for a visual or repetitive job, Bass Arcade will get you through.
Grey Poupon, futons, and croutons
Chosen by: Public playlist
Genre: East Coast hip hop, rap, hip hop, alternative hip hop, jazz rap, lo-fi hip hop
Have you ever noticed that a fancy mustard, Grey Poupon, is referenced in a lot of rap songs? Well, it is and now you can listen to all the songs that reference it.
This is rap and some heavy rap, too. So we'd suggest this type of playlist for a more visual job. It moves quickly, so we think that you'll be able to keep up with the tracks and produce work at a fast pace.
Wes Anderson mix
Chosen by: Public playlist
Genre: Soul, folk-rock, blues, art-rock, avant-garde, alternative rock
If you're something of a cinephile and have a penchant for alternative music, look no further. This Wes Anderson mix features every song ever in a Wes Anderson film. So if you love a bit of soul, folk rock and throwback from The Darjeeling Limited, then this may be for you.
This playlist is easy listening, great for background noise and a bit of synchronicity perfect for muscling through work.
In Summary
While listening to music at work is never a one-size-fits-all scenario, we here at Caffeinate Digital, along with the researchers from earlier, vouch for having music in the workplace. It adds to the culture and allows people to enjoy their time at work more. But mostly, music has the ability to improve productivity at work and make people happier to be there.
Sure, everyone has their preferences. But we're sure that you'll improve productivity at work through amazing Spotify playlists. Beyond that, our playlists will get you pushing through your work with a smile on your face.
If you're not already, follow some of the playlists above… they're a living, breathing document, always being added to!
We want to hear from you! Follow us on LinkedIn, Facebook and Instagram to keep up with us, get our notifications and start a conversation! 
Get the latest and greatest.
Direct to your inbox.
No spam. Only the good stuff.