Rating Our Favourite April Fools Pranks Of 2021
April Fools Day 2021 has brought on a landslide of brands taking to social media to express their more humorous side.

We all deserved a good laugh after this past year, and Australian brands did not disappoint with these very clever social media April Fools posts.
Here is a list of our favourite of this years April Fools social media pranks.
Scroll at your own risk.
1. Subway – Coriander Cookies
Subway announced a "coriander cookie" to be hypothetically launched in stores to either delight or disgust, depending on your feelings about coriander. This was the first joke of the day that captured our attention and gave us all a good laugh.
7/10
View this post on Instagram
2. Western Australia Police Force – Bin Chicken
Someone in the department must have had a lot of fun with this one, from the bin chicken to the comical use of Comic Sans.
*Chefs Kiss.* In the office we had a good laugh in the office about this one.
9/10
3. Vegemite – Vegemite Dare
A popular genre of this years April Fools was the food that should be combined type of jokes. Nothing quite beats Dare iced coffee mixed with vegemite, two beloved Aussie classics that together, sounds quite terrible.
8/10
View this post on Instagram
(READ: Google Page Experience Update Set to Launch)
3. Volleys – Bunnings Shoes
Coming up with these Bunning's themed Volly shoes we would actually love to really exist (seriously I would wear these in a heartbeat) and for that, we're taking a few points off. Plus a free sausage with purchase – excellent stuff.
6/10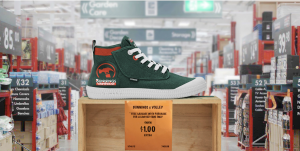 4. Ikea – Fashion for Dogs
Following on from the Ikea bag trend that brought us the small bag and the famous bucket hat.
Ikea brought us a range of haute "hund" couture outfits, for dogs. Adorable and hilarious we love it.
9/10
(READ: Caffeinate Digital Spills the Beans with Brownes Dairy)
Last but not least.
5. Caffeinate Digital – Rickroll'D
We went with an April Fools classic, a Rickroll.
While we are biased, when is a Rickroll never not funny?
10/10
(READ: Read This Before Building Your Website)
We want to hear from you! Follow us on LinkedIn, Facebook and Instagram to keep up with us, get our notifications and start a conversation!
Get the latest and greatest.
Direct to your inbox.
No spam. Only the good stuff.