Meme Culture in Marketing
Ah, Memes. Here at Caffeinate, we love sharing memes on our social media pages. Why? Memes offer a humorous way of sharing ideas about marketing in a way everyone can understand (and let's face it, they usually get a lot of likes).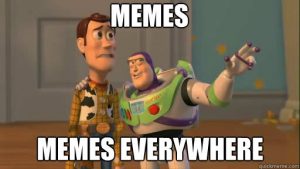 (READ: Google Page Experience Update Set to Launch)
There's one particular meme currently circulating the internet, and we can't not talk about it.
Maybe you've seen once, or even 100 times on your Facebook newsfeed, the now 'infamous' flowy pink strawberry-printed dress. This $490 tulle and glitter creation from New York-based designer Lirika Matoshi has taken over news feeds everywhere.
First seen in the public eye in January of 2020, the dress has recently taken a life of its own as a meme, populated by platforms such as TikTok, Facebook and Instagram. A version of the dress is even available on Animal Crossing.
Girls don't want boys, girls want gollum in strawberry dress pic.twitter.com/SVV0Dnd129

— Ash🍄 (@AKIRAbxtch) August 9, 2020
(READ: 30 Gmail Keyboard Shortcuts That Could Save You HOURS)
Because of all this, a dress that has been on the market for a year has seen its sales increase by 1073% compared to the same date period last month.
For those brands who are prepared to ride the wave and submit to the forces of the internet, good for you. Capitalising on current trends and topics gives brands and businesses opportunities to connect with audiences across various social media platforms that they mightn't have otherwise reached, thanks to social media (Lirika Matoshi connected with those that wouldn't have otherwise been interested in independent high-end fashion). Think about it; successful memes come about when something is funny, trending and relatable to a wide range of people. Your social media's organic reach has the power to go through the roof when people are talking about the topic YOU'RE talking about.
(READ: Caffeinate Digital Spills the Beans with Brownes Dairy)
Though not everyone will buy the strawberry dress, those that have seen it are forever haunted by its presence wherever they go online through Facebook retargeting ads. Marketing genius, if you ask us.
So why has this $490 dress become such a viral trend?
From the words of Matoshi herself in an NBC interview, "A lot of people have been at home wearing sweatpants for a long time, so the dress feels extra special," she said.
"It's almost like an escape from the current situation."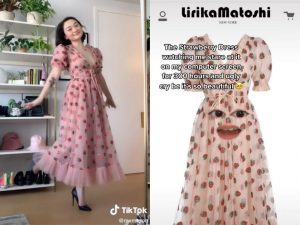 Here at Caffeinate, we believe this to be the reason behind the trend as well. Times are tough for everyone, no matter where you are in the world, and the strawberry details, the baby pink colour, and the flowy fabric that makes the wearer feel like a Disney princess, represents a longing to a simpler time.
So, we're encouraging you to embrace positivity, take what's trending online and run with it.
(READ: Read This Before Building Your Website)
We want to hear from you! Follow us on LinkedIn, Facebook and Instagram to keep up with us, get our notifications and start a conversation!
Get the latest and greatest.
Direct to your inbox.
No spam. Only the good stuff.