The Nuts and Bolts of Landing Page Success
Landing Pages – the bread and butter of every good marketing strategy.
Investing in a landing page is a wise decision – for a multitude of reasons.
We get it. Small businesses are sometimes strapped to put time and resources into a successful marketing campaign.
But a good landing page is the key to success within your marketing strategy, and it's crucial to have one.
So if you want to gain more leads, capture better data and score a higher conversion rate – here are five key things you need to know about landing pages.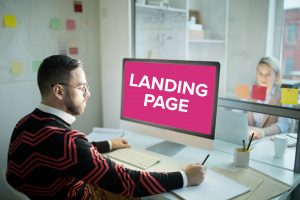 Judge A Landing Page By Its Cover
Your landing page needs to be eye-catching to keep a potential customer's attention (not exactly straight forward given attention spans are lower than ever), and work FAST.
Ensure that your landing page is responsive, so visitors have a smooth, fast experience no matter what device they are using. Use plenty of images (ensure you have the correct permissions to use the photos – whether they're sourced from a paid or free stock photo site, or taken yourself) and keep the file sizes small to ensure loading times are quick.
If your customers click on your ad and have to wait a long time for your landing page to load, they're going to get bored and go elsewhere.
(READ: What is SEO and How it Works: A Beginners Guide)
Call to Actions
Your landing page NEEDS to have a strong call-to-action that draws your visitors in—for example, offering an option to download a free brochure.
Perhaps you want them to fill out a form, or make a phone call.
When you have a fantastic lead magnet on the page, someone can receive something valuable for free, in exchange for handing over their information. This is why you need to make this offer as beneficial (and valuable to them) as possible.
(READ: Make Better Use of Google Ad Extensions to Maximise Spend & Rank High)
Fields & Data Connection
The focus of landing pages is to capture essential data about your customers and have a way to follow up with potential leads. Make sure your landing page includes forms that ask for first and last names, email addresses, phone numbers, or other information that you want to use.
This information can help build relationships with your customers and deliver to customers what they are looking for.
Get Synchronised
It's essential to ensure that your landing page is synchronised with your CRM (Customer Relationship Management). For example, here at Caffeinate Digital, we use Hubspot. This makes following up on potential leads and data collection a whole lot easier.
(READ: 6 Marketing Mistakes You're Making On Facebook)
Speak To Your Target Audience
Last but not least, remember to speak to your audience. Personalised messaging can make all the difference in whether you convert your potential customers or not. Do some research. What slang do they use? What words would turn them from a potential customer into a paying customer? Are you speaking transformationally – that is, speaking to their ideal after state (the desired outcome from using your product/service?
So there you have it, five tips to increase the conversion rate of your landing page.
Let us know what you think in the comments down below.
(READ: Ultimate Social Media Size Guide 2021 [Infographic])
We want to hear from you! Follow us on LinkedIn, Facebook and Instagram to keep up with us, get our notifications and start a conversation!
Get the latest and greatest.
Direct to your inbox.
No spam. Only the good stuff.