4 Recent Google Changes That Could Be Harming Your SEO Ranking
Did you know… that Google makes 4,500 changes to their algorithm every YEAR?
Scary, but true.
This can have a significant impact on the way marketers and business owners approach Search Engine Optimisation, better known as SEO.
Part of many businesses' goals is to have their online content rank on the first page of Google.
It's not an easy task by any means, but that's not to say it's not doable.
After all, you want people to find your products or services, and achieve this by finding your website.
Here are 4 changes we recommend implementing to ignite your SEO strategy to another level; that means increasing organic traffic to get your website ranking higher within Google's search results.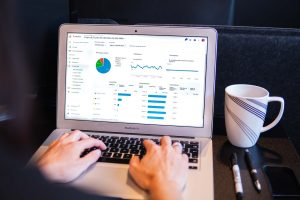 3 Core Web Vitals To Rule Them All
In recent years, Google challenged the SEO game by taking into consideration a page's loading speeds as part of its ranking system within its algorithm.
In 2021, Google has taken things one step further with something they've called 'Core Web Vitals'.
The Core Web Vitals set out a list of factors Google has deemed necessary when considering a website's organic ranking in search results.
So whilst it is essential to keep in mind in mind backlinking and the quality of your content, it is also important to consider:
How long it takes for most of your page's content to load
How long it takes before a user can interact with your page (for example, entering their username)
How much a page shifts (when dimensions of elements change on the page) during the loading process (less is better)
(READ: What is SEO and How it Works: A Beginners Guide)
Reference, Reference, Reference
Expertise, authoritativeness, trustworthiness (EAT) is Google's way of discovering how much a specific piece of content is considered to be trustworthy.
For example, sites can have well-written content on a website that complies with the Core Web Vitals; link building, title tags and alt text on all your images. That said, this doesn't necessarily mean that the content is entirely accurate and written by an expert in the subject.
Google applies this to everything, but most of all, applies this to content focused on health-related subjects.
The takeaway: We need to ensure that content is correct in the information that it is giving, and references reputable sources. Hint: It's best not to reference a source that is widely recognised as something that isn't reputable, or regularly accurate.
(READ: Make Better Use of Google Ad Extensions to Maximise Spend & Rank High)
Optimising For Search Intent
Google has the ability to measure how users interact with your website content.
Say, for example, someone is looking for a recipe on how to bake bread. They type out their search query and click the first link in Google, look at the recipe and decide it isn't the right recipe, so they decide to click back to the search results page after a couple of seconds.
The amount of time someone spends on a page is something Google can measure. If enough users have the same experience, Google can push your content further and further down the list of search results.
This is why it's essential to not only create content that is not only keyword optimised, but also, optimised for "search intent", meaning that visitors can easily find your blog (or relevant website page) as the solution to the query they have typed into Google.
An excellent way to combat these issues is to find out what questions your audience is asking and answer them.
(READ: 6 Marketing Mistakes You're Making On Facebook)
It's Free SERP Real Estate
SERP is chunks of text highlighted within the search results in Google that isn't the traditional blue link to a website.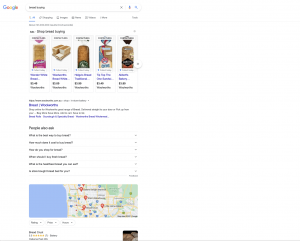 When searching for something in Google – the order of content is rather interesting. Before the organic rankings, several ads and a "people also ask" box appear.
Many marketers and business owners have switched their focus to aiming for SERP real estate over a traditional, unpaid and organic google ranking.
An example of this is a website that might aim to have their content appear in the top organic listings but also have a paid ad result and a video rank with it at the same time.
(READ: Ultimate Social Media Size Guide 2021 [Infographic])
References
Digital Marketer
We want to hear from you! Follow us on LinkedIn, Facebook and Instagram to keep up with us, get our notifications and start a conversation!
Get the latest and greatest.
Direct to your inbox.
No spam. Only the good stuff.